Maryvale is proud to recognize January as Human Trafficking Awareness Month which encompasses Commercial Sexual Exploitation of Children (CSEC).
CSEC occurs when a minor is sexually exploited for economic gain. It can involve pornography, prostitution and the smuggling of children for unlawful purposes.
Maryvale provides residentially based supportive and mental health services to girls ages 6-18 who experienced extensive trauma, abuse and neglect which inherently places them at-risk for CSEC involvement. Maryvale works closely with its respected community partners such Los Angeles County Probation, Department of Children and Family Services (DCFS) and Department of Mental Health (DMH) to provide best practice prevention and treatment services to the youth we serve. Maryvale has also piloted a 6-week CSEC prevention curriculum for at-risk girls.
CSEC affects communities at worldwide, national and local levels.
CSEC is a form of human trafficking. Human trafficking is a worldwide, billion-dollar-a-year industry.
According to the State Office of the Attorney General, human trafficking is the world's second most profitable criminal enterprise with drug trafficking holding the topmost rank.
CSEC is a rampant and fast-growing problem: Three of the nation's 13 high-intensity child prostitution areas as identified by the FBI are located in California: Los Angeles, San Francisco and San Diego metropolitan areas.
The average age of recruitment into CSEC for females is age 12.
The average age of recruitment into CSEC for males is 11.
Males and female children are both at risk. The FBI estimates that 300,000 children are at-risk of CSEC.
Please contact Gina Peck-Sobolewski, LMFT, Senior Director of Maryvale Residential Treatment Services at (626) 280-6793, ext. 337 or gpeck-sobolewski@maryvale.org with any questions or to request further information on how Maryvale is working closely with the CSEC population.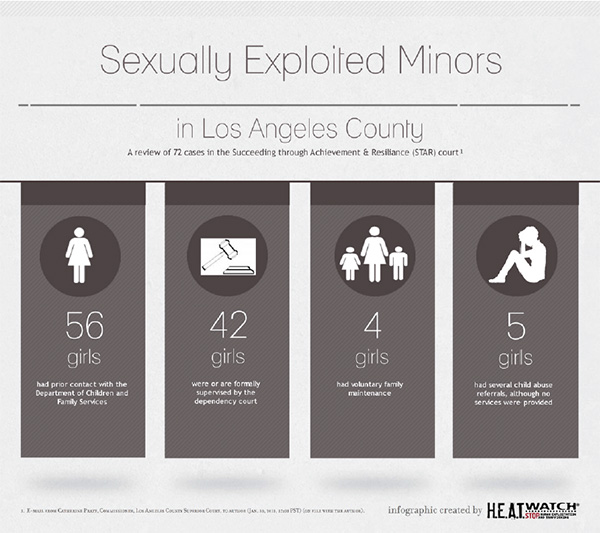 Further information about CSEC can be obtained at the following DMH link which contains: http://file.lacounty.gov/dmh/cms1_211312.pdf
Additional Resources:
Information compiled courtesy of Los Angeles County Department of Mental Health (DMH) and the following contributors:
State of California, Department of Justice: Office of the Attorney General—http://oag.ca.gov/human-trafficking
Albanese, J. (2007). U.S. Department of Justice (OJJDP), National Institute of Justice Special Report, December 2007, "Commercial Sexual Exploitation of Children:
What do we know and what do we do about it?"— https://www.ncjrs.gov/pdffi les1/nij/215733.pdf
Shared Hope International. (2009). The National Report on Domestic Minor Sex Trafficking: America's Prostituted Children.
(http://www.prevent-abuse-now.com/stats)
Albanese, J. (2007). U.S. Department of Justice (OJJDP), National Institute of Justice Special Report, "Commercial Sexual Exploitation of Children: What do we know and what do we do about it?"—https://www.ncjrs.gov/pdffi les1/nij/215733.p
Walker, K. California Child Welfare Council, Ending the Commercial Sexual Exploitation of Children: A Call for Multi-System Collaboration (2013) available at http://www.youthlaw.org/fileadmin/ncyl/youthlaw/publications/Ending-CSEC-A-Call-for-Multi-System_Collaboration-in-CA.pdf.
Infographic created by Alameda County's HEAT Watch