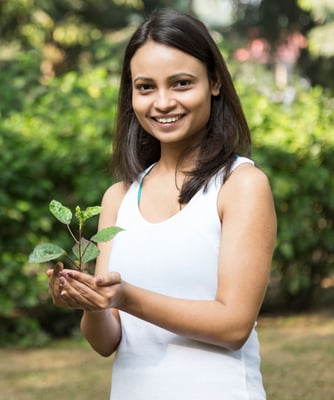 "I saw a kid who was trying," says Randi, a Maryvale staff member as she describes Kathy, a 17-year-old who relished the opportunity to participate in our Wellness and GRASS programs. But, it wasn't always that way.

Arriving in 2016, Kathy was a Maryvale resident for almost 3.5 years. A teen who displayed many challenges such as running away, refusing to attend school, substance abuse and avoidance of new people, she often struggled to follow directions.

Eventually, a budding relationship with staff and participation in Wellness activities helped turn things around. She engaged in therapy and began to flourish at school, even taking on a job to plant trees on campus
(something she enjoyed).

As trust with staff grew, Kathy learned it was okay to meet new people. She was given more freedom and incentives – such as rewards for an A at school.

We are proud to share Kathy recently left Maryvale and is now in a foster home. Through Maryvale's dedication to her success, she had become an advocate for herself and her peers.

About Wellness Activities
Our Wellness activities serve as building blocks for self-empowerment, skill building, healthy living and education. Anchored by staff committed to the success of our youth, our Wellness activities include Kids in the Spotlight, a film program in which our residents script and star in their own movie, the running/hiking club Maryvale Milers, expressive art, a photography workshop, independent living skills training, music lessons, field trips to performances and cultural celebrations such as Dia De Los Muertos and Black History Month.