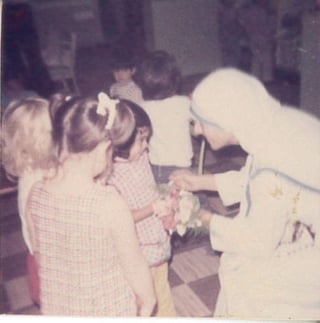 Mother Teresa will be canonized on September 4th by Pope Francis at the Vatican, culminating a lifetime of selfless devotion to the "poorest of the poor" on a journey that began in Calcutta, India, and grew to a worldwide mission.
The beloved Catholic nun, recipient of many honors including the 1979 Nobel Peace Prize, founded the Missionaries of Charity, a Catholic congregation, with more than 4,500 sisters in 133 countries, running hospices and homes for people with life threatening illnesses, in addition to soup kitchens, dispensaries and mobile clinics; counseling programs, orphanages and schools. At the time of her passing she was responsible for establishing 610 missions across the globe.
In 1973, Maryvale was blessed with a historic visit by Mother Teresa, who at the time was receiving the St. Louise de Marillac Award by the Ladies of Charity in Los Angeles. Sr. Estela Morales remembers Mother Teresa well, as a warm and caring person, but most of all impressed by her genuine kindness and deep humility.
Mother Teresa stayed overnight in Maryvale's Sister's House. The next day Mother Teresa toured Maryvale's programs, spending significant time at the Early Education Center, thoroughly enjoying her talks with the children. While the other members of her tour left to attend another location, Mother Teresa chose to remain at Maryvale to "be with the children."
"The children were enthralled with her," Sr. Estela said. "And they later made gifts to send to children in one of the Mission of Charities works in India."
Mother Teresa's acts of kindness and social justice spanned the course of her 87 years. Whether she was sharing her leftover food from her airplane travel with the poor and hungry, or, requesting that the $192,000 needed to hold a traditional Nobel honor banquet in her honor instead be given to help the poor of India. Her conviction and work changed the world forever.
On Sunday, Maryvale will celebrate along with the world as she joins a sainthood community.
About Maryvale: Maryvale cares for severely traumatized children, ages 6 to 18, who require specialized treatment in an intensive therapeutic 24-hour environment. We have been caring for children in the greater Los Angeles area since 1856.