Los Angeles Maryvale Guild
A Group of Dedicated Women
---
In 1950, Maryvale was operating as the Los Angeles Orphan Asylum in Boyle Heights. After sheltering more than 8,000 children, earthquake damage and freeway expansion led to the destruction of the Boyle Heights building. By that time, the orphanage had become so essential to the successful functioning of the city that some supporters stepped forward to assist in its relocation to Rosemead. Many of the women who rallied to the cause became founding members of the Los Angeles Maryvale Guild, which remains a thriving fundraising arm for Maryvale's children today.
In large part due to the efforts of the guild, Maryvale benefactress Carrie Estelle Doheny, wife of Edward L. Doheny, was a generous contributor to the construction of the Rosemead campus. Together, the group worked tirelessly to raise the additional funds needed to complete the new home, and the campus opened in 1953 and christened Maryvale. The new location did not alter the Guild's mission nor its commitment to the underserved.
The women of the Los Angeles Maryvale Guild remain ferociously committed to providing financial support for Maryvale's Early Education and Community-Based and Wraparound Mental Health programs. Guild members understand the tremendous value of our program for the children and families in our care and ensure the continued availability of Maryvale's services by conducting creative fundraising and signature events throughout the year.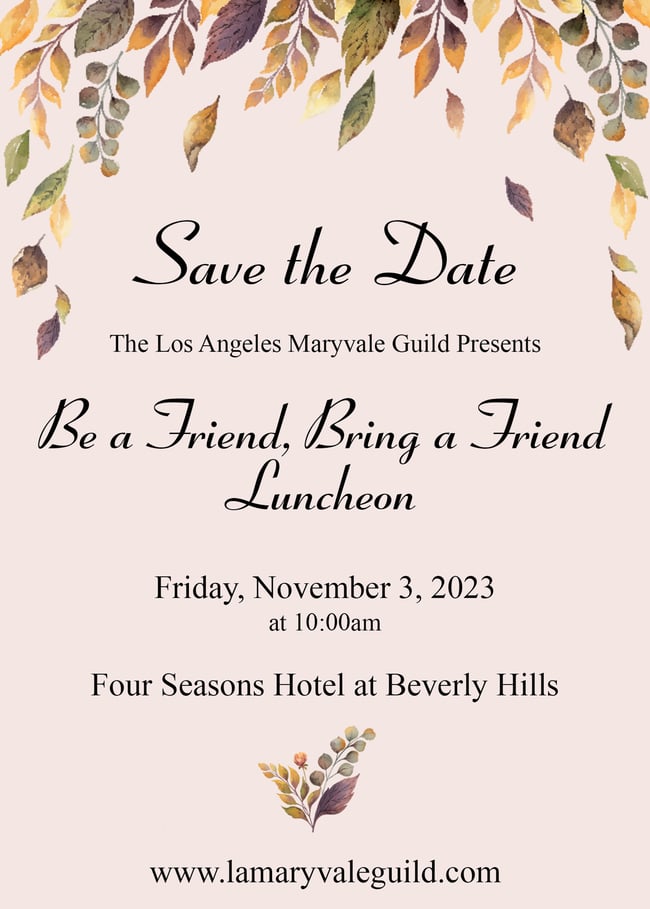 ---
Be a Friend, Bring a Friend Luncheon
Enjoy these outtakes from the recent LAMG event.