Maryvale: L. A. County's Longest-Operating Children's Charity
1856
In the mid-1800s, Los Angeles had no child welfare system. Orphaned or abandoned children roamed the streets struggling to survive, and entirely dependent on the generosity of strangers. Desperate to find a solution, Bishop Amat, the first Bishop of the Monterey/Los Angeles Diocese, petitioned the Daughters of Charity for help.
On January 6, 1856, five Daughters of Charity arrived from their American Provincial House in Maryland to open Los Angeles' first orphanage and hospital in the small wood-frame Wilson Home on the site where Union Station stands today. The following year the Sisters built a new building adjacent to the first–which, in 1869, was officially named the Los Angeles Orphan Asylum.
1891
In 1891 the orphanage expanded yet again, relocating to a much larger facility in Boyle Heights to accommodate the increasing number of orphans who needed somewhere to live. With a growing reputation as a safe place for children of all faiths and races—a refuge in an unstable and sometimes dangerous city—the Los Angeles Orphan Asylum became an indispensable part of the community.
After sheltering more than 8,000 children, earthquake damage and freeway expansion plans led to the destruction of the Boyle Heights building. By that time, the orphanage was so fundamentally important to the successful functioning of the city that a number of supporters stepped forward to assist in its relocation. Many of the women who rallied to the cause became founding members of the Los Angeles Orphanage Guild, which is still operating today.
1953
In large part due to the efforts of the Guild, Carrie Estelle Doheny, wife of Edward L. Doheny, helped obtain land in Rosemead for the new campus and provided a substantial sum toward the costs of construction. The Los Angeles Orphanage Guild members worked tirelessly for the cause and successfully raised the additional funds needed to complete the new campus. In 1953, the campus was complete and the orphanage relocated to Rosemead. The new location came with a new name: Maryvale.
Both the Los Angeles Orphanage Guild and the Carrie Estelle Doheny Foundation continue to provide critical support for Maryvale's work today.
Over the years, Maryvale's evolution from an orphanage to an agency providing care for foster youth mirrors the development of the child welfare system in the United States as a whole. Maryvale has grown far beyond its initial role of providing for every child's basic needs in a loving and stable atmosphere; Maryvale is a multidisciplinary agency working to prepare girls and young women to rise above past hardship and prepare for future success through trauma recovery, educational programs, life skills and a wealth of other support. In addition, Maryvale has expanded its programs to address the factors that can result in children being abused or neglected, focusing significant resources and expertise on strengthening families and the community.
1968
In 1968, the Daughters became concerned about the lack of structured learning opportunities for pre-school aged children—infants to age six—who had been placed in residential care at Maryvale. In keeping with their proactive approach, the Daughters launched an in-house day care center to meet the needs of these children. The center maintained operations long after children 0-5 were no longer placed in residential care at Maryvale.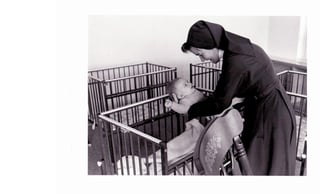 Almost immediately the Daughters recognized that high quality early childhood educational programs, like their in-house center, had the potential to prevent child abuse and neglect and strengthen families by creating better-informed and more knowledgeable parents with access to the resources they need to overcome challenges and create stable homes. The Daughters immediately opened the center to children from the broader community.
1999
In 1999 Maryvale responded to community need by launching a second Early Education Center in Duarte.
2011
After successfully operating its Early Education program in Duarte from its original facility for nearly a decade, Maryvale launched an extensive planning project to create a new state-of-the-art center—a center that would bring even more resources to area families.
During the planning process, and after more than 150 years of caring for children separated from their families for a variety of unfortunate reasons, the Daughters of Charity recognized that many families today need help and support with the stress of balancing work and family, coping with financial hardship and a host of other issues — ranging from substance abuse to the loss of loved ones. The Daughters understood that strengthening families was the key to keeping children safe and positioning them for academic and personal success, so a commitment was made to include a Family Resource Center as a key component of the new center.
Maryvale opened the doors of the new Family Resource & Early Education Center in Duarte in February 2011 to address the myriad issues that can compromise family well-being. The new location expanded the capacity of the Early Education Center dramatically— growing from a center where 5-6 staff served about 40 children daily to a center with 35 staff and a capacity to serve 148 children per day.
In addition to the expanded early education program, the center also provides comprehensive community-based prevention, intervention and treatment services for all families — including blended, kinship, adoptive, and foster families—and brings affordable and accessible mental health services to the under-insured and uninsured, as well as families and individuals with limited or no resources for such care.
2014
In early 2014, responding to a critical need in Los Angeles County, Maryvale opened the St. Vincent de Paul Emergency Shelter program at its Rosemead campus for children 6-12 years old who had recently been removed from their homes due to abuse, neglect or abandonment, children in the midst of crisis or those transitioning between foster placements. The program provided short-term care in a specialized setting. Children received immediate medical attention and educational and social-emotional assessments that assisted Child Protective Services and the dependency court in making the best decisions possible for the child's future care. The program was successful at the time; but has since been closed.
2019
New state legislation (AB403), which came into effect on January 1, 2017, shifted the treatment model for children to family and community-based child and family services and redefined group homes as short-term residential therapeutic programs (STRTP). The goal of this legislation was intended to have children placed in family settings whenever appropriate. The STRTPs then were focused on youth requiring more structured and intensive settings. The STRTP staff worked with County staff to find safe and permanent placement for each child in their care. Maryvale received its license in February 2019, the same month that its Emergency Shelter Program closed, and provided residential treatment for girls 6 to 21.
2020
After nearly four years working to develop and operate a quality STRTP to serve its community and local youth, Maryvale's Residential Program closed as of August 5, 2020 due to a challenging therapeutic environment and poor outcomes. We have continued to provide Mental Health Services for children, youth and families.
During the ongoing COVID-19 pandemic, Maryvale remains open as we operate our Early Education and Community-Based programs.
As we move forward into the future of Maryvale and the communities we serve, our enduring mission remains the same: to heal, empower and educate children and families to instill hope for a more fulfilling future in an environment of dignity, love, and respect. Maryvale is dedicated to serving children and families according to our core values of Respect, Compassion, Advocacy, Integrity, Inventiveness, Excellence, Inclusivity, and Collaboration.
2021
It's an incredibly exciting time for Maryvale. In the spring, we partnered with the non-profit The Shower of Hope to provide temporary housing for female college students who are housing insecure. We hope to expand this meaningful program to enable more young women to achieve their educational and life dreams.
We also spent a year exploring ways to make a greater impact in the community by serving more people with a greater array of services. In June, our Board of Directors approved our new three-year strategic plan and the work associated with a refresh of our vision, mission, and values. We are eager to begin efforts to launch child and adolescent substance abuse and dual-diagnosis outpatient treatment services in 2022, short-term transitional housing to prioritized populations, explore the development of longer-term support services, and expand our early childhood education and mental health services footprint in the coming years. We envision becoming a vibrant community hub for these child and family services as well as parent, caregiver, and professional education, partnering with other organizations where it makes sense to provide a more comprehensive offering to the community.