Improving Lives Since 1856 – And Onward!
---
With the help of our Board of Directors and a Strategic Planning Committee, we have developed a three-year strategic plan that will enable Maryvale to serve more people with additional programs and services. As Los Angeles' longest-running charity dedicated to serving children and families in need, our programs will further cement our role as one of the region's most trusted providers of service for the underserved. In this section of the website, we provide an overview of our strategic plan; our vision, and updated mission and values; and a letter from our president.
Maryvale Strategic Plan 2022 – Letter from the President
Read the full version of the strategic direction announcement from our President & CEO, Steve Gunther.

Maryvale Strategic Plan 2022–2024 Infographic
Get a visual perspective of our strategic plan with this graphic representation of our main strategic priorities and goals.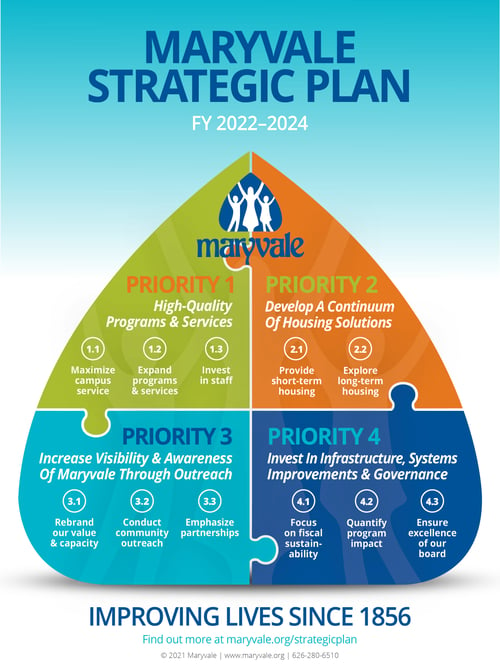 Maryvale Strategic Plan 2022–2024
With guidance from our Board of Directors, several outside experts, and a host of passionate donors, supporters, and community leaders, we authored a strategic plan that will shape the organization's near-term operations and long-term future. Learn more about our guiding principles, strategic priorities, and our goals in our Strategic Plan 2022 – 2024.
Maryvale remains committed to helping families in need grow and stay together, stronger than ever before. With more than 84% of our students and clients unable to pay in full and in need of subsidized tuition or care, we are forever grateful to all our donors and major benefactors.