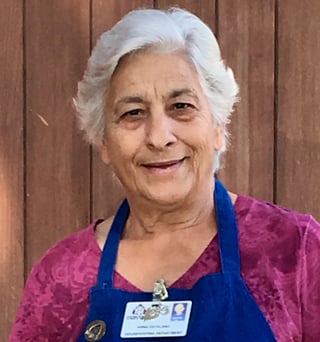 Anna Catalano greets each new morning as she has for the past 30 years, with renewed hope that the day will bring with it special blessings for Maryvale's children and its staff.
Through the years, Anna has become the unofficial keeper of Maryvale's memory book, and with encyclopedic precision she can recite the members of the Daughters of Charity who have been at Maryvale, including Sr. Mary Vincent, Sr. Elizabeth, Sr. Joanne, Sr. Carol, Sr. Monica, Sr. Mary Genevieve, Sr. Diane, Sr. Barbara and Sr. Martha.
Anna praises Maryvale's unwavering commitment to the children. "The children here are courageous," she noted.
Though Anna doesn't work directly with the girls, she greets them warmly every morning. Some of them ask her for a hug, and she responds compassionately, "I love hugs."
Anna has enjoyed working in housekeeping around campus, but no assignment surpassed her role as the dog walker during the years the sisters lived in the residential halls and had pets at Maryvale.
On her daily walks with Kollee, a bulldog mix, there was one 6-year-old girl whose gaze was constantly fixed on the dog. "The girl fell in love with Kollee," she said. One day the girl ran toward her then stopped abruptly, looking directly at Anna.
"I asked her what can I do for you?" said Anna. The girl pointed directly at Kollee. A supervisor shared that the girl wanted to walk Kollee with Anna. That marked the beginning of a special relationship between Kollee, Anna and the girl.
"We held the dog together and walked all around the campus," she said.
Every day at 10 minutes to 12 she was right there waiting for me." This ritual continued for the next nine years, until at the age of 15 the girl was adopted by a foster parent. A few years later, the girl and Anna shared a visit. "I'm really proud of her," she said.
Maryvale is the children's sanctuary, a place of retreat from a confusing and sometimes hostile world, and in some ways it is Anna's sanctuary, too. "I enjoy being at Maryvale," she said. "It's a wonderful place, and the people are really nice. They have become my second family."