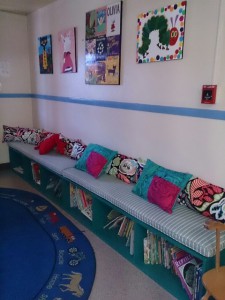 The Rosemead Early Education Center was lacking a library space for the children and their families, so a parent and professional in the field of Early Education, Andrea Giese, saw the need and decided to lead the project.
The Center did not have an extra room for a library, but there was a small space at the end of a hallway that could be utilized if designed creatively. Andrea saw the potential of the small space and had a vision for creating a beautiful space that has become the new Book Nook.
The goal of the Nook was to give the classrooms a place to go to other than their classrooms to read books, setup activities, borrow books for their weekly lesson plans, and eventually watch educational videos. The Nook would also be a place where families could visit to read a book together or to pick out a book to borrow over the weekend.
Andrea created several paintings inspired by popular children's books including Olivia the Pig and The Cat in the Hat. The artwork instantly grabbed the attention of the children. Andrea then had a custom child-sized bench built and topped with colorful cushions and pillows. Families donated books and the shelves under the bench began to fill the Nook.
Today the Book Nook is regularly visited by the children and their families. The classrooms take trips to the Book Nook to read stories and play games. Families continue to donate books and enjoy the space with their children.
The Book Nook is still a work in progress, but Andrea's vision has become a reality. We extend our heartfelt appreciation to Andrea for her dedication and creativity in creating the Book Nook enjoyed by the children and their families!