It was an evening filled with inspiration, generosity, and love. On February 28, 2014 the Los Angeles Orphanage Guild held their annual Heart to Heart Gala at the beautiful Montage Hotel in Beverly Hills.
The evening started with guests being served champagne and hors d'oeuvres as they mingled and perused more than one hundred silent auction items. It was a bidder's delight! When the silent auction ended, guests made their way into the beautifully decorated Montage Ballroom where they dined on a delicious meal.
During dinner, guests listened to an adoptive mother who had been a volunteer at Maryvale for over 20 years tell the story of how she and her husband came to adopt two children who they built a relationship with through their volunteer efforts at Maryvale.
During the live auction, the Auctioneer's first item for bid was a glass of water which sold for $250. From that moment on, the enthusiastic bidding continued to the end. The final item of the evening sought donations to fund a fitness center for the girls at Maryvale. Maryvale's President and Executive Director, Steve Gunther, shared with those present why a fitness center is so important for the young women Maryvale cares for every day. The live auction raised nearly $80,000, of which $33,000 was raised for the fitness center. The generosity of the guests throughout the evening was overwhelming!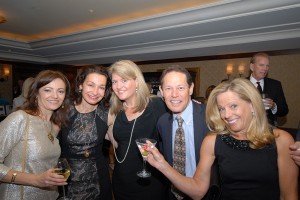 The event honored Bunny May for her 27 years of dedicated service to the Guild and Maryvale. Her friends called her the "First Responder" for always being there without being asked. Her love for children drew her to Maryvale. Bunny May was unable to attend the Gala but her daughter spoke beautifully about how much the friends her mother made through the Guild meant to her, and about how her faith and giving back were so central to the meaning of her life. Maryvale was saddened to receive the news that Bunny May passed away on March 3, 2014, just three days after the Gala.
The Gala was an enchanting evening and huge success raising $147,000. Maryvale extends our heartfelt appreciation to all the Guild members for the unwavering love and dedication they show Maryvale year after year. Maryvale also extends its gratitude to all the companies, foundations, and individuals who made the event a wonderful success!