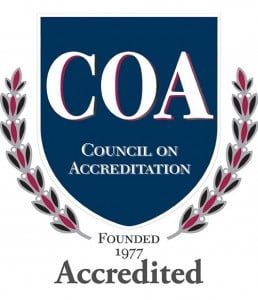 In an effort to ensure that Maryvale's programs and services meet the highest standards across the nation, we embarked on a journey two years ago to seek national accreditation. After much work and preparation, we had our accreditation site visit by COA in early June. Nine days after the evaluators left, we received a letter from COA with the following message:
"On behalf of the Council on Accreditation (COA), I am delighted to inform you that Maryvale has been accredited. In addition, Maryvale was expedited through the Pre-Commission Review Report (PCR) process as a result of not receiving any out of compliance ratings in any of the fundamental practice standards. Congratulations on this amazing achievement."
As one would expect, we have grown significantly as a result of this process and the quality of our programs and services are stronger than ever! We are grateful for the support of our Board of Directors, the caring and diligent work of all our Associates, and for the continued confidence of our community of supporters.
To learn more, visit COA's website.