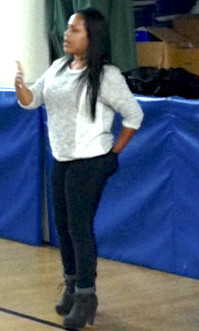 The statistics tell part of the story - more than 100,000 children nationwide, mostly young girls, coerced into virtual servitude by sex traffickers who prey on their vulnerability and abuse them for profit. But statistics unintentionally ignore the humanity of the young lives that are at stake, a humanity systematically broken down, that may never be pieced back together. "The stories are haunting," says Gina Peck-Sobolewski, Senior Director of Residential Treatment for Maryvale. Peck-Sobolewski is the co-author with the Los Angeles County Probation Department and other L.A. agencies of a prevention and education curriculum for the Commercial Sexual Exploitation of Children (CSEC).
She examined the sexual abuse crisis and discussed some of the steps Maryvale is taking to treat and support the victims of systemic sexual abuse who are in its care. "These CSEC children are misunderstood, people think they are prostitutes; they are victims and abused and exploited children." She also discussed "survivor­ inspired CSEC prevention and treatment" embodied by women like Jessica Midkiff, a CSEC survivor who recently visited the Maryvale campus and spoke to Maryvale's girls.
Q. Can you provide an overview of what Jessica discussed with the girls? What key areas did she speak to? What does "survivor-inspired CSEC prevention and treatment entail?
A. Jessica provided a moving documentary of her life, how she was recruited into CSEC and how she became empowered to leave "the life" at age 20. It is crucial to use actual survivors to engage and connect with current victims of CSEC because the survivors offer hope and inspiration that therapists cannot provide because they are too far removed. The impact a survivor's story delivers is vital to the healing of its victims. We plan to use more survivors to serve in an educational and mentoring role during the entire CSEC prevention, intervention and treatment process.
Q. How many girls attended the session? How many of Maryvale's therapists, case managers, and group counselors attended?
A. Thirty-two kids and 21 staff members attended.
Q. What activities did the afternoon include?
A. Jessica showed the girls a video about her journey, and told her story -- speaker style. Jessica's story made such a dramatic impression that 14 girls asked to speak to her after the assembly, and we scheduled meetings for Jessica to meet with the girls over the next day. During Jessica's two-day visit, she spoke to girls in a group as well as individually, and dined with the girls. The girls responded well to Jessica, and turned to her for guidance, support and connection. Although many had questions for Jessica, those who are identified as CSEC were able to form a special bond with Jessica, and turn to her as a mentor.
Q. What are the goals of this type of event/speaker? How were you able to secure Jessica as a speaker?
A. The goal of the speakers is to provide education, hope, inspiration and support for our vulnerable, at risk and exploited youth. I met Jessica during my work with Los Angeles County Probation after hearing that other counties have been using survivors in this capacity for some time.
Q. Was this a turning point in Maryvale's work with the CSEC population? If so, in what way and what will subsequent follow ups look like?
A. This was absolutely a turning point; I hope to include Jessica and other survivors as a regular part of our treatment and engagement curriculum. These survivors will serve as educators and mentors.
A treatment and engagement curriculum for Maryvale girls is now being developed by Peck-Sobolewski and a CSEC expert consultant.