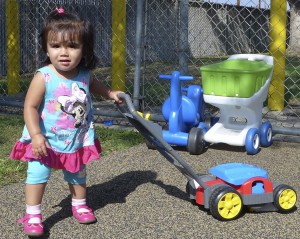 All children need a place to play and create – in short, a time to break free and explore!
Maryvale's Early Education Center has created an outdoor learning environment as an extension of its classroom setting to ensure children embrace education in a fun and innovative way, thanks to a generous $10,000 grant by the Ronald McDonald House Charities of Southern California (RMHCSC)
The RMHCSC grant provides Maryvale with an array of creative tools including easels for art activities, tables for manipulative activities, playhouses and a treehouse for dramatic play, sensory tables and sand box for science and experimentation, blocks for early math activities, and bikes and trikes and balls for gross motor activities. There are separate play spaces for specific age groups, including 6 weeks to a year, and 12 to 30 months.
In addition, a plant boxing project introduces children to nature. The play yard also is sheltered by a 90 percent UV-protected canopy, and includes fencing around the perimeter of the playground as well as multiple safety barriers.
Subjects such as science, technology, engineering and mathematics (STEM), as well as language/literacy, the arts, and social/emotional development, are introduced on an age-appropriate level to challenge and empower the inquisitive young mind.
Since 1987, the RMHCSC Community Grants Board has raised and distributed nearly $24 million locally to organizations that are committed to improving the lives of children.