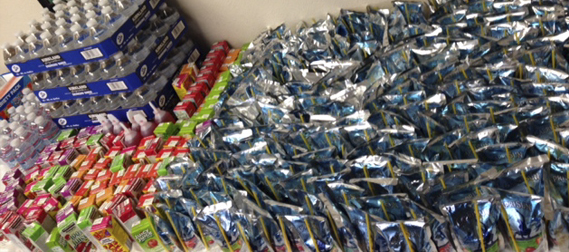 Almost all of us have witnessed the plight of the homeless at one time or another, and may have wondered, "What can I do?"
Thanks to a grassroots project developed by Maryvale's Sr. Martha Garcia, Vice President of Mission Integration, and Erica Luna, Administrative Operations Manager, there's plenty we can do. It's a Maryvale way of life to keep hope alive and so it was a natural fit when the Mission Integration Team decided to launch an annual drive to support the less fortunate in honor of the Feast Day of St. Vincent de Paul, founder of the Daughters of Charity.
For the third year, Maryvale's Blessings in a Bag project provided items such as crackers with cheese and peanut butter, chips, juice, water, granola bars, fruit snacks and canned tuna to individuals and families in need. This could only happen through the generosity of our many volunteers, whose gifts of non-perishable food and drink items were distributed to the homeless and needy individuals and families in Los Angeles and San Bernardino counties.
In all, 391 bags were assembled from donations provided by Maryvale associates, Early Education Center families from both Rosemead and Duarte, volunteers from the Residential Program and Emergency Placement Center for Children, and other individuals who just wanted to contribute. Approximately 40 associates carried the bags in the back seat of their vehicles and distributed them to the homeless and needy as they encountered them.
The project has tapped into the hearts of so many generous people, said Blessings in a Bag organizer Luna. "People wanted to donate, share the spirit of giving and philanthropy with their kids, and teach them about how important it is to help those in need. We are so thankful for the kindness and support."