"I am the most blessed person you will ever meet on the face of this planet."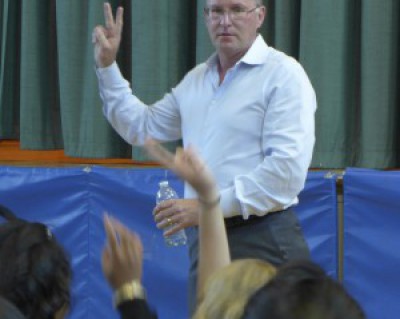 These words, spoken by best-selling author and lecturer Dave Pelzer, seemed strangely out of place for someone who, through the first 12 years of his life, suffered some of the most horrific forms of child abuse ever documented by California authorities at that time.
But Pelzer's message to a recent gathering of Maryvale residents didn't focus only on the awful circumstances that had damaged his life and the lives of the young women in the audience. Instead, it was a message of redemption, of finding a way back from the pain of their stolen youth.
"I didn't speak for the first 12 years of my life," Pelzer noted. "My mother made me swallow ammonia." But after his mother inflicted him with burns, Pelzer finally let his anger out.
"I got angry for the first time," he said, "and realized it wasn't my fault." It was at that moment Pelzer understood his mother was severely mentally ill. "My mom was sick, abused, with the cancer of hate."
"We all have scars. All of us are damaged. But at the lowest parts of your life, you will find out about yourself."
Pelzer learned to speak by practicing 30 minutes each day in front of a mirror. In much the same way, he said, the young women of Maryvale must work to take back their lives, their self­ esteem, their future.
"From this moment on I want you to own you, own your actions, your inactions, your mistakes, your dreams," he encouraged. In short, to attack their lives with the passion of a survivor.
"God doesn't make junk," he stressed. "You survived for a reason."
Scanning his audience, Pelzer didn't see failure, apathy or surrender. "When I look out at you," he said, "I see a doctor, a Congresswoman, a dentist, a beautiful mother. I see greatness."
Whatever the difficulties, "You have to decide your path," he continued. "No one can decide for you. You can accomplish anything. But you've got to work for it every single day. Start to focus on all that you can be. Find your mission."
This is a journey of many steps, he indicated, and there will be mistakes. It all starts from within. "All I care about is that you don't quit on yourselves," he said. "At the end of the day, it's about you."