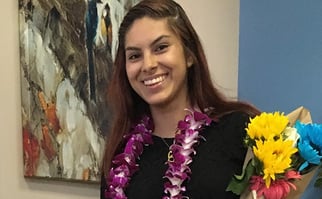 The beginning of a new school year may be viewed with worry by some children, but for others, the classroom represents an opportunity to leave a troubled past behind and embrace the future.
Former Maryvale resident Monserrat is one of those young women who used academics as a means for personal growth and hope for a career helping others. In the process, she found herself. Her essay detailing her transformation from a deeply troubled youth to a confident, goal-oriented young adult, recently earned her a college scholarship.
"In my life I've overcome many obstacles; one of them is being a foster youth. Being taken from my home and put in a strange place wasn't easy. It has inspired me to one day major in social work. My social worker was very understanding and influenced my career choice. She took me to her office and showed me the tasks a social worker performs. I then knew I wanted a career in which I could build on and love.
Last year I overcame my drug addiction, relapse after relapse but I finally did it. My drug counselor had a lot to offer, he showed me how to reflect and was honest about the path I was headed. Becoming sober made me realize the things I am truly capable of. I have started my first year of college and am determined to take and pass the classes I need in order to pursue my promising future
Working with my therapist at Maryvale was very beneficial. She helped me understand my emotions and grow as person. I had to work very hard with my treatment team so I could visit my mom every weekend. I also had to show my commitment to my rehabilitation process by staying 100 percent sober, and submitting myself to random drug tests. I achieved exceptional grades during my senior year in high school and attended school daily. My staff at Maryvale taught me how to identify my strengths, by setting limits with me and finding ways to continuously motivate me.
By choosing social work as my major I hope to learn about the laws, psychology and each individual's past. I know that my choice of attending college will further my education and help me become a success. My career will impact my look on life and only inspire me to keep learning. From my experience of being a foster youth, I hope to make a great social worker one day. I know how the system works, and I know how much it helps children and young adults like myself who want to be helped.