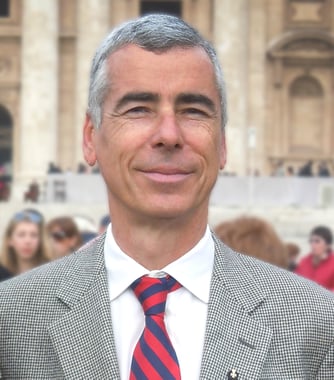 We are so excited to honor Patrick Pascal, President and CEO of Chelsea Management Company, at our 7th Annual Restoring Hope Golf Tournament on March 23. A long-time supporter of Maryvale, he embraces a family tradition of service to the community.

For many years, he has volunteered at several Los Angeles charities, serving on boards, chairing finance committees as well as donating time and resources for charitable activities.
Discover what drives him, and the amazing number of college football games he has attended, in our Q&A feature.

What brought you to Maryvale and what led to your decision to get involved?
Getting involved was an easy choice. Maryvale closely matched our family's charitable focus on providing for those most in need.

What are values that drive you?
I am always struck by the asymmetry of charity – how a small effort by one, can change the life of another. Many years ago, I was on the receiving end of such asymmetrical charity. I can never repay those gifts, but I keep trying.

Other causes you care about?
Education. Livable communities.

Can you describe what a typical day looks like?
My days start early as my investment profession is largely practiced during east-coast hours. Late afternoons are often occupied with charitable endeavors and my evenings are usually spent quietly at home with my wife.

What is something you enjoy doing not related to work?
I love long bike rides. I have cycled most of the Pacific Coast, California and parts of Washington. One of the best results of these long rides is that I can then cook and eat as much as I like.

What personal goals do you want to accomplish this year?
My goals for this year are the same as last year – to assist my wife, Julie, in her recovery. A car accident in 2016 resulted in severe neck and back trauma. She has made enormous progress, and this year we plan on taking our first significant trip.


3 Fun Facts About Patrick
He has attended over 400 college football games – mostly USC & UCLA, but also a lot of Cal-Stanford big games...and too many Rose Bowls to count.
Although spread over many years, he has lived overseas for more than 5 years of his life – from Europe to Asia to Latin America.