If there's one thing advocates for sexually exploited children want everyone to understand, it's this: "There's no such thing as a child prostitute." But language is powerful, and labels matter, forever stigmatizing victimized children as "child prostitutes" or worse. That's why last week's launch of the #NoSuchThingAsAChildProstitute campaign in Los Angeles was a watershed event.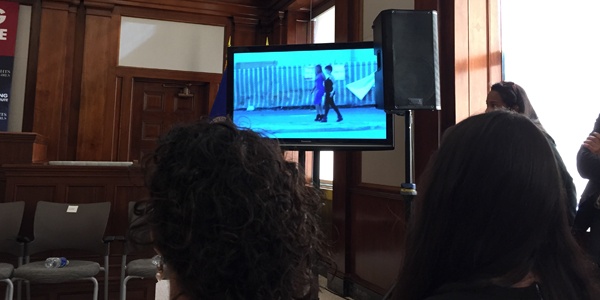 Speaking before a packed room in the city's Hall of Justice, Los Angeles County Sheriff Jim McDonnell pledged that children will no longer be arrested for prostitution, and that their exploiters and customers would be arrested and prosecuted. A $1.5 million federal grant will help ensure that it happens, McDonnell said, allowing the Sheriff's Department to create a regional task force "to combat human trafficking and the exploitation of young people in our community." "We have created a culture of shame, regret and trauma that these children must face today and every day thereafter because of the labels we have placed on them," McDonnell continued.
But that's about to change.
Already more than 18,000 sheriff's personnel have been told to eliminate such terms as "child prostitution" and "underage prostitute," and to encourage others to do the same. "We are training probation officers, transit authority, sheriff's department employees, and letting everyone know that our children are not for sale," said County Supervisor Mark Ridley Thomas. Ridley Thomas was joined by fellow Supervisors Don Knabe and Sheila Kuehl, as well as Michelle Guymon, Director of the Child Trafficking Unit for the Los Angeles County Probation Department, at the event. "It is wonderful to see how invested Los Angeles County is in supporting such an important cause," said Gina Peck-Sobolewski, Senior Director of Residential Treatment at Maryvale. "We have served this population in residential and foster care for some time but are now changing the language to refer to these kids as victims who need protection, education and treatment. These children are not criminals and should never be blamed for their exploitation.
Sadly, EVERY child is at risk for victimization in this regard." The public discourse has been muddied for years by casual references to "child prostitutes" and "underage prostitution," panelists indicated, with a majority of the major media outlets having used those terms approximately 5,000 times during the past five years. "The word 'prostitution' is a term that's used to make the girls feel unworthy," said Jessica Midkiff, a survivor advocate and Maryvale mentor who attended the event. "We are made to feel less than … worthless … dirty. The kids do what they need to do to survive the next day, the next rape, and the next exploiter." These children have dreams and ambitions like everyone else, she asserted, "but the stigma and shame makes it nearly impossible for them to come back."
"No child grows up dreaming of becoming a prostitute and living this horrific life," echoed Malika Saada Saar, Executive Director of the Human Rights Project for Girls (Rights4Girls), a group focused on gender-based violence against vulnerable young women and girls in the U.S. "We do not need our children to be behind bars and experience re-traumatization. "The current system is not victim-centered. But we are moving away from arrest and detention now toward engagement and support through community-based services." She believes the program being formulated in Los Angeles will have broader implications, serving as a "national model." The time to act is now, stressed Withelma "T" Ortiz Walker Pettigrew, who recounted what it was like to be sold for sex on the streets of Los Angeles and beyond. "Between the ages of 10 and 17 I was exploited throughout the western U.S.," she said. "We have to remember that today is about the young men and women suffering right now. They live in a cycle of shame. We can remove these labels from them so they can see themselves in a different light." Kim Biddle, Executive Director of Saving Innocence, wants people to understand who the real criminals are. "Because there is an exchange of money, there is supposed to be a difference," she said. "But there is no difference. This is a rape, a sexual assault. The children are the victims and the buyers are the criminals." The youngest child referred to her organization was only 9, she said, and law enforcement statistics show that the very young are often the ones victimized the most. "We know that the average age of a teen bought and sold for sex by traffickers and child molesters is between 12 and 14," Sheriff McDonnell told a stunned audience.
Dr. Robert K. Ross, President and CEO of The California Endowment, added these words of warning: "The data show that time does not heal all wounds. Some of (the victims) become warriors and leaders through the trauma, but the science tell us the effect of trauma are severe and long-lasting. "Human trafficking is a form of modern day slavery," he emphasized. "We must reframe the victim to survivor. It's essential." It's also important for victims to know that they have a place to turn. "We are there 24 hours a day, seven days a week," said Biddle — "to rescue that child so they know they are being seen as a child — not as a criminal, but as a victim." "I hope that campaigns such as these and those to come in the future further shape the public's opinion to elicit much needed support so that we can end childhood commercial sexual exploitation in the United States," added Peck-Sobolewski. Maryvale's work in this area is growing, said Peck-Sobolewski. "Maryvale is committed to providing best practice trauma informed treatment to this specialized population. We have developed a comprehensive treatment program in collaboration with Los Angeles County Probation and other external partners which focuses on effective prevention, education, screening, assessment, engagement and treatment. "We welcome these children without judgment and support them unconditionally. We also understand that trauma informed care is trauma informed care, whether a child is part of a specialized treatment population or not, every child at Maryvale receives top notch treatment to address their individual areas of need."