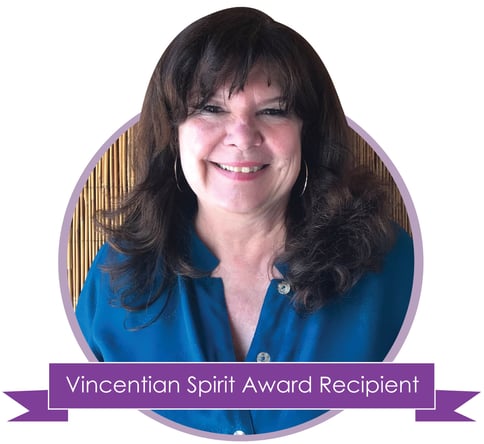 When family and friends hear about the award, there is a resounding vote of "no one is more deserving than Susan."

For nearly three decades as a volunteer at Maryvale with the Junior Guild, Susan Frazier has made our children laugh, has been a "big sister," helped organize innumerable activities and introduced our residents to experiences they can only imagine.

It was our honor to award her with the first-ever Maryvale Vincentian Spirit Award, and to recognize our countless supporters, at our Vincentian Spirit Award & Dinner Celebration on September 12. Held at Maryvale's Rosemead campus, the well-attended event drew more than 100 guests which included former alumni, Maryvale board members, donors, volunteers and elected officials.

"I had always been involved with charity work, it's my life. However, Maryvale has stuck with me. It has a special place in my heart. I have met many wonderful girls and staff."

As a former President, Vice President, Assistant Treasurer, Senior Representative (to name a few) Susan and the Junior Guild brought a tradition of introducing our children to valuable experiences both on campus and within the community. Their activities, which included bowling, birthday parties, petting exotic animals and an annual Christmas party, was not only fun but also provided hope.

Throughout her time at Maryvale, Susan has constantly shown the care and kindness reserved only for those with the biggest hearts. Her impact on our children, and our staff, has been tremendous.

Thank you Susan for providing our youth with meaningful memories that will last a lifetime.

About the Award
"First the Heart, then the Work," St. Vincent de Paul

St. Vincent de Paul was a humble French priest known for his compassion, humility and generosity. In 1633, together with St. Louise de Marillac, they established The Daughters of Charity, a community of Catholic women trained to serve the "poorest of the poor." Today, the DOC live and work in 1,680 communities in 94 countries.

In recognition of exceptional individuals who have supported our mission, we have created the Vincentian Spirit Award.
Based on our five Vincentian Core Values of Respect, Compassionate Service, Simplicity, Advocacy for the Poor and Inventiveness to Infinity, the Award represents being a beacon of hope for our children when they need positive involvement the most. The recipient's influence, and impact, goes beyond the child's time at Maryvale.