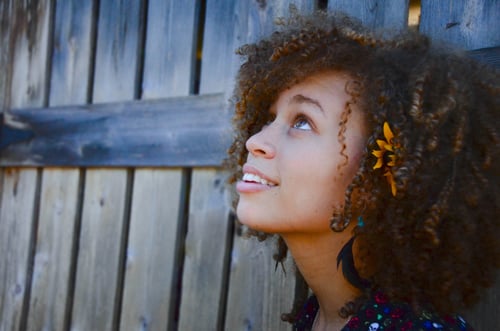 Recent high school graduate and Maryvale resident Haley has a dream, and it involves helping children less fortunate. "I want to be a social worker," she said. "When you've been through the foster care system, and you know how it works, you'll be a great social worker. I can give them advice, and they'll know I've been there."
Her troubles began as a child, when she, her mother and brother, lived for a time with her uncle and aunt. That's when her uncle tried to molest her.
She remained silent about the episode, but internally she experienced rage and defiance. Her path toward self-destruction surfaced during high school when she repeatedly tried to get expelled. In desperation, she overdosed on drugs, which landed her in the hospital. When she finally shared her secret with a social worker, she was placed in a group home.
Unfortunately, that group home proved unsafe and she ran away. In three years, her life included five failed foster care placements and a life-threatening period of being held in captivity by a man.
It was the beginning of nine months of abuse, as 16-year-old Haley was imprisoned and repeatedly beaten; she was forced to take drugs and, as a result, became addicted to methamphetamine.
"I couldn't go to school; he wouldn't let me out. I was malnourished," Haley said. "He would threaten me, hit me. He would try to brainwash me. He would tell me 'you have no one else. There is only me.'"
Though she tried to escape, he would catch and hurt her. Haley was a victim of Stockholm syndrome.
One day, her body covered in bruises, she saw an opportunity and finally escaped. She ran to a friend's house where she stayed until a detective located her with the help of her family. She filed a police report, and was transferred to Maryvale. She wasn't done testing boundaries, however, and her distrust of others was damaging. She was still having nightmares and flashbacks.
"When she arrived here, she assaulted staff. She was on the verge of being sent away to a rehab facility to face her meth addiction," said Isau Graves, Maryvale Group Supervisor. "But then she turned it around. She is a real leader now."
Her turning point happened during a frightening AWOL episode. She left Maryvale and ended up at a house with drug addicts. What she didn't expect to see, however, were two toddlers playing in the midst of adults who were taking drugs.
"When I saw those babies with their mom right next to them getting high, I said what's going to happen to them? Those children deserve a better life," Haley said. "After I came back to Maryvale, I reported to staff what I saw, and changed my life."
Haley was intent on staying at Maryvale, and she made the most of every residential treatment program offered, including chemical dependency, college prep, and life skills workshops.
That shift in attitude enabled her to graduate early from high school. "Even after a year of not going to school, I was able to catch up quickly," she said. "I learned I was smart." Her efforts resulted in a much deserved Alhambra Latino Association Scholarship. It was life-changing.
At 18, Haley is eager to begin the next chapter in her life. She has enrolled in college with the goal of graduating with a sociology degree so she can help foster children just like her.
Not long ago, this would have seemed impossible. "Only we can stop ourselves from achieving our goals," Haley said. "And I will succeed."