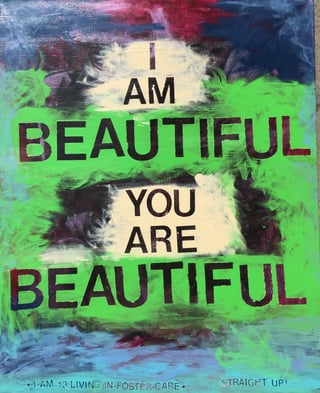 If you had the chance, how would you articulate the experiences that reach deep into the subconscious?
For many of Maryvale's children, a new form of expression is helping them cope with those feelings – art therapy. This developing process, which combines psychotherapy with various art forms, is becoming an essential part of our Trauma Informed Care program.
At Maryvale, art therapy takes the form of group projects, which not only teach the value of communication and collaboration, but also emphasize to these fragile children that they are not alone.
With a community loom, children expanded their imagination, growing as a team, trusting each other to construct a beautiful and intricate art piece that featured words of expression.
Painting, filmmaking, writing, music, photography and poetry, among other art forms, have been tools through which Maryvale's children have expressed a sense of worth and self-discovery.
The healing power of art is well known, and its application as therapy for children coping with trauma is growing and has tremendous potential.
It is hoped that through this creative process they may help reconcile their painful past and visualize a future filled with hope.