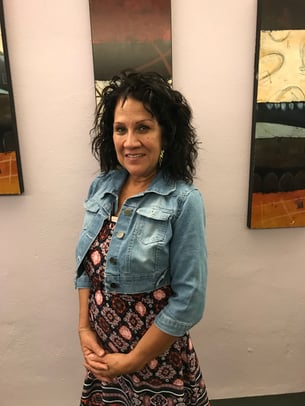 Gas prices were a $1.16. A brand new Ford Mustang was $6,500. The world was introduced to the now-iconic characters, the Mario Bros. It was 1983, the year Mary Urbina joined Maryvale.
Going strong as a passionate Resident Counselor, this month marks Mary's 35th year at Maryvale. For her amazing commitment to fellow staff and our children, we are proud to deem Mary one of our Superheroes. Happy Anniversary Mary!
Flexible, adaptable, thrives through change – all characteristics that describe her. And since much has evolved since her first day on the job, she took time to reflect on the many changes she has experienced during her career at Maryvale.
"Back then, the kids needed a home. Now, they need treatment."
Today, Mary still delivers smiles, but admits that building relationships with the children in her care proves to be more difficult. She is quick to add that Maryvale staff is responsive. "We will weather through the change."
Mary's advice to new employees? Stay determined. You are making a difference even though sometimes it doesn't feel that way.
Being a life-long influence is her hallmark. She grins from ear to ear talking about former residents who are now engineers, nurses, teachers, therapists, airline attendants and one who owns an art gallery. Some of her former residents, now in their 40s, still invite her to birthday parties and weddings.
Drawing on her knowledge, passion and on-going trainings, Mary plans to prepare our children for life beyond the
gates of Maryvale.
So after three and half decades, what keeps her going? "Making a difference in these girls' lives…hearing back from former residents."