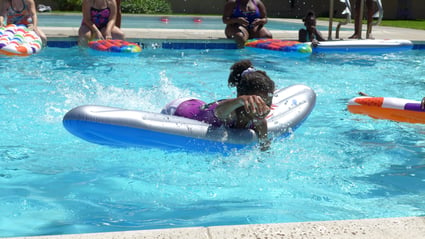 As the Fourth of July weekend approaches and temperatures continue to rise, many Southland families are preparing to find relief and relaxation at the local beaches, water parks, and other recreational facilities.
The refreshing blue waters can sometimes conceal unexpected dangers. In California, drowning is a leading cause of injury-related deaths among children under the age of five. Each year, near-drowning incidents result in life-long disabilities.
One important safety measure you can take is to designate a "Water Watcher" whenever children are near or in the water. An "official" Water Watcher is an adult who agrees to give 100 percent of his or her attention and care to kids playing in or near a pool, lake, or even a backyard tub filled with water. The Water Watcher agrees to set aside all distractions, including cell phones and tablets, books, etc. Before Independence Day arrives, download Maryvale's Water Watcher Card and make a water safety plan for the weekend and the summer. Take a moment to review the Department of Developmental Services' "Layers of Protection Approach for Drowning Prevention." Drowning and near-drowning incidents are 100 percent preventable!
Layers of Protection for Drowning Prevention
> Never leave a child alone near water, even for a few seconds;
> A supervising adult should be close enough to touch a child under four years old near water;
> Keep a constant adult eye on young children and use the Water Watcher approach;
> All collections of water are dangerous for infants and toddlers including bathtubs, buckets, toilets, ponds, spas, swimming pools and natural water sites;
> Swimming pools should have fences, alarms, and drains that meet regulations;
> Pool gates should be self-latching, opening outward, with the latch out-of-reach for children;
> Keep rescue aids near a swimming pool;
> All children should wear a personal floatation device while playing near bodies of water, but remember these devices do not replace adult supervision;
> Parents and caregivers should know how to perform rescue techniques and strategies to respond to an emergency;
> If a child is missing, check the pool first.
> Watch and listen to this simple steps pool safety video in English and Spanish narrated by actress Ming-Na.
According to California Gov. Jerry Brown, there have been more than 60 drowning deaths among children ages five and under in the state, every year for the past five years. More than half of these accidents occur in residential swimming pools.
Take action now to prevent a devastating incident from happening.